Posted on April 20, 2017 by The VRG Blog Editor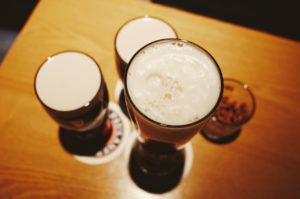 By Jeanne Yacoubou, MS
In 2015, Guinness announced that it would remove isinglass from its beer-brewing process by the end of 2016. The Vegetarian Resource Group wrote about it here:
http://www.vrg.org/blog/2016/04/14/guinness-to-remove-isinglass-from-its-beer-brewing-in-2016-regrained-nutritional-bars-from-beer-production-by-jeanne-yacoubou-ms/
We checked with the company in April 2017 to see if their new system were functional yet. Within 10 minutes The VRG received this email reply from Peter Venegas, Consumer Care Manager – North America, for Diageo® which owns the Guinness brand:
"We are continuing to work through the installation and commissioning of a new filtration system at St. James's Gate that will remove isinglass from the Guinness brewing process. We are making good progress on the installation and the project remains fully on track…we will provide a further update as soon as we are able to do so."
Isinglass and other animal-sourced clarifying agents including gelatin and egg white are not used in most commercial beer brewing today in the United States. Beer clarifying agents do not need to be identified on labels, however, so always do a company inquiry when in doubt.
A few US beers may contain honey or clam juice; if included these ingredient names would appear on a bottle label. Readers may consult http://www.barnivore.com/beer for the latest information on vegan domestic and foreign beers.
Animal ingredients are more likely to be used for beer clarification in other countries notably those in the UK and in the EU. However, some brewers in those countries are following Guinness' example.
While researching this Guinness update, The VRG noticed that in October 2016 Cheshire Brewhouse® made a similar announcement. The company stated: "We have now removed isinglass finings from the brewing process for our cask beers. However, we have always been fish-product-free on our bottled and keg beers." http://www.cheshirebrewhouse.co.uk/isinglass-free-cask-beer/?age-verified=0ceb0bc9f0
According to Ian L. Ward in his isinglass definition from the Oxford Companion to Beer: "With the advances in centrifugation and filtration technologies, the use of isinglass has declined and today it is largely confined to cask-conditioned ales, although some American craft brewers also use it…" https://beerandbrewing.com/dictionary/szToZUocgW/isinglass/
For information about gelatin, isinglass, and other ingredients, see:
vrg.org/ingredients/index.php
To support The Vegetarian Research, join at:
www.vrg.org/member/2013sv.php
The contents of this posting, our website and our other publications, including Vegetarian Journal, are not intended to provide personal medical advice. Medical advice should be obtained from a qualified health professional. We often depend on product and ingredient information from company statements. It is impossible to be 100% sure about a statement, info can change, people have different views, and mistakes can be made. Please use your best judgement about whether a product is suitable for you. To be sure, do further research or confirmation on your own.